Traditionally, creating an impression involves using dental impression material to form a mould of the arch. It's not only potentially inaccurate but also very uncomfortable and unpleasant for the patients, especially if they feel anxious or they have a very sensitive gag reflex. When dentists create a mould in this way, they need to insert the impression material into the mouth and then shape it, so that it covers the teeth and gums; when the impression sets, a model of the mouth is formed. These models are then sent away to a laboratory where dental technicians will use them as a basis for a new restoration, such as a crown or bridge.
Digital impressions offer a clean, accurate, comfortable and quick alternative to traditional methods of taking impressions. Next, please enjoy a full digital case with the usage of intraoral scanner from SHINING 3D.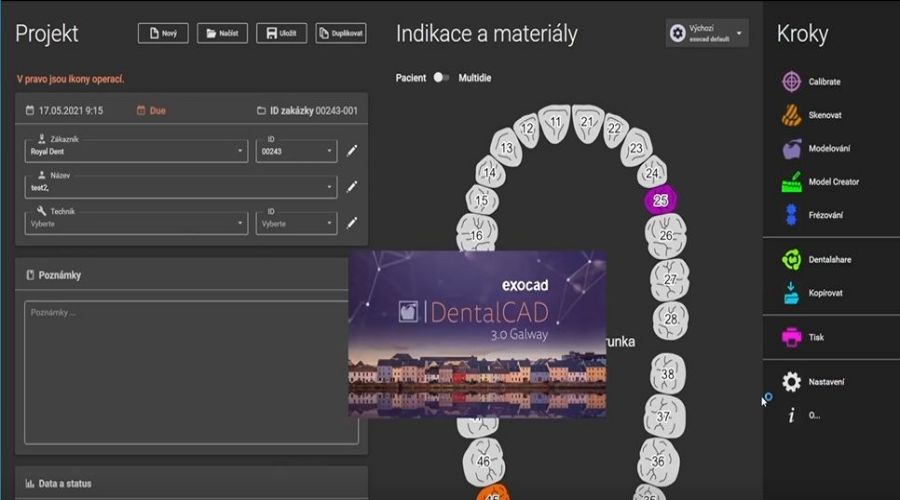 Firstly, we can create order from exocad, then click "design" to load the digital impression that has been captured by Aoralscan from SHINING 3D.
Here is the data scanned by Aoralscan, with the reference of the true color , dentist and technician can accurately understand the oral condition of the patient.
Adjust the bite in software if needed.
For a more accurate occlusal, we can activate the feature of "virtual articulator" in exocad software, and adjust the position manually.
Draw the margin line, if the margin is not clear ,dentist can draw it in the process of scanning, and margin line can also be loaded into exocad software.
Set the parameter of the crown bottom.
Design the crown and finish.
Import the designed crown into nesting software , then output the NC file for milling.
Mill the crown with milling machine.
Finish the milling and staining of the crown.
Take out the crown from furnace after sintering.
After glazing , sandblast the inner side of the crown.
Directly try the crown on patient's mouth and finish cementation.