Overview:
With the help of Shining 3D's DS-EX 3D scanner, one dental hospital successfully accomplished a chairside restoration case with two crowns.
DS-EX series scanners come with compact size, open structure and wide applications, offering dental clients worldwide a great choice to scan. Especially, DS-EX Pro comes with outstanding scan speed which helps dental clients upgrade the productivity.
Chairside Digital Dentistry Solution
1 Preparation (time:ca. 60mins)
2 Impression Scan(time:ca.10mins)
2.1 Order Creation
Create the order and save before clicking "scan" to jump into the scan software.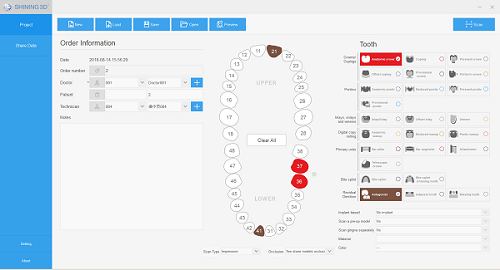 2.2 Bite Scan
Scan the bite.
Cut unnecessary data after scanning, like captured BlueTac data, what will faster the computing.
2.3 Scan Antagonist Jaw
Put the antagonist on scanner and scan.
2.4 Scan Prepared Die Impression

2.5 Data Alignment
3 CAD Design(time:ca.15mins)
The scan data is imported directly into the exocad design software and the inlays are designed.
4 Data Planning & Milling (time: ca. 35mins)
The design data is imported directly into the CAM software and zirconia crowns are milled.
5 Post-processing(time: ca. 120mins)
6 In-mouth Try-out