Preface
A patient presenting with jaw bone defects was struggling with everyday activities, such as chewing, swallowing, and pronunciation. The patient has also become more self-conscious and it has begun to affect them negatively. Given that the mouth and nasal cavity are connected, and the support of the remaining tissue is insufficient, there are some difficulties to be experienced in clinical treatment: taking impressions and getting an inaccurate occlusal relationship, insufficient facial soft tissue recovery, and poor prosthesis fixation. The development of digital technology improves the treatment of such cases.
Today's case was provided by dentist Shi Yong, a deputy director of the physician, who graduated from Air Force Medical University and works at the Stomatological Hospital of Southern Medical University. In this case, the doctor used an intraoral scanner, a face scanner, CBCT, an electron face arch, and intraoral functional impressions to get accurate information, made a radiation guide plate, implant guide plate temporary restorations, and 4 implant bodies. After three months, the final repair of this complex case was completed: digital implantology overdenture for maxillary edentulous with jaw bone defect.
Case Information
Patient's information: 60 years female
Chief complaint: After surgery 2 weeks ago, the patient had difficulty chewing, so she came and required treatment.
History of present illness: The patient had a long history of maxillary tooth loss and movable denture restoration due to caries, periodontitis, and other factors. One month ago, owing to the black gingival plaque of the left upper posterior teeth and jaw bone defects, she had a partial maxillary resection surgery in the hospital.
Medical history: No history of allergies or any other disease.
Intraoral Examination
The maxilla #17~#27 was missing, and alveolar ridge absorption in the edentulous area was moderate and severe. The left posterior part of the maxilla was missing, and a leakage in genyantrum oral and nasal cavities (Fig 3). Fixed bridge restoration in the lower jaw,#44~#47 was looseness in I degree (Fig 4,5).
Diagnosis with Jaw Bone Defects
Partial defect of the left maxilla
The upper jaw was missing
Defect of the lower jaw
Treatment Plan
Step one: Periodontal system treatment
Step two: Determine the treatment plan, after comprehensive consideration and discussion with the patient, the final treatment plan was prosthesis together with locator implantation supports overdenture restoration.
Treatment Process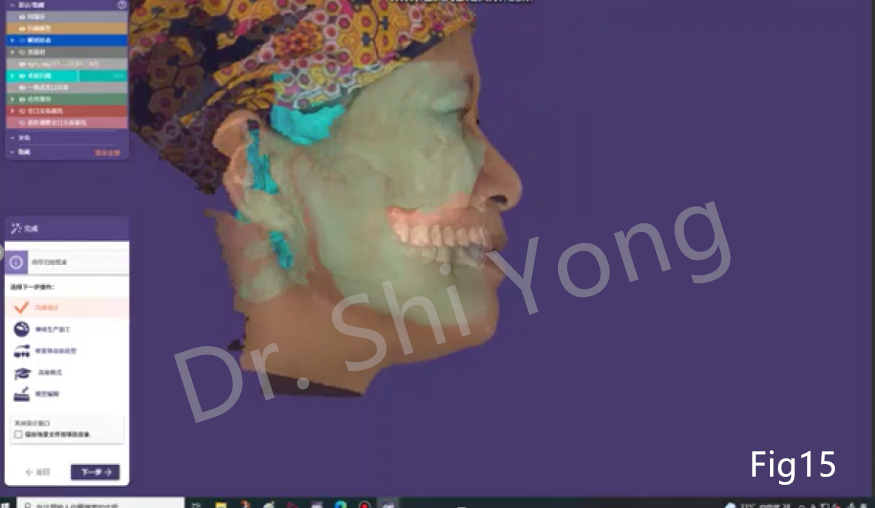 Summary
The combination of digital technology and intraoral functional impressions can not only improve the accuracy of restorations but also reduce chairside time.
Non-contact digital impressions can simplify the technical operation in patients with maxillary defects and avoid the stimulation of the wound.
The whole process is assisted by digital technologies, recording the data accurately before and after treatment. It can restore the patient's maxillofacial contour, shorten the waiting time and reduce their treatment cost.