With the development of digital dentistry, digital impression is becoming increasingly popular. Not only is it a faster, easier process with more accurate results, it's also an investment in patient experience – drastically reducing intraoral discomfort and helping the patient better understand their treatment plan, next I will show you an application of intraoral scanner–Aoralscan 3 from SHINING3D in digital implantology.
There are several big gaps among patient's anterior teeth, tooth #12, #14, #26, #27 were missing, and severe alveolar bone absorption, dentist plan to extract the maxillary teeth and immediately place implants for implant-supported restoration.
Extract tooth #11,#16,#17,#21,#22,#24, then immediately place the implant.
Maxillary sinus elevation surgery is needed before the placement of implant on tooth position #26.
Respectively place implants on tooth position #24, #22, #12, #14, #16.
Take a CT scan after implant surgery, we can verify that all these implants had been accurately, and safely placed on the right position.
After surgery, we can immediately scan with IOS3 (Intraoral scanner from SHINING3D) to get the digital impression for subsequent temporary restoration and model creation.
Scan upper arch without scan body.
Insert scanbody and scan the upper arch again with scan body.
Scan lower arch as antagonist.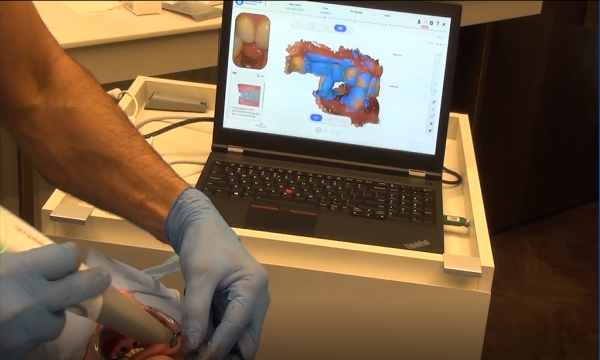 Scan the bite.
Design temporary restoration & models base on the digital impression, then print the models with AccuFab-D1s. Finally, we can try the restoration on the printed model.