Shining 3D released a new generation intraoral scanner, Aoralscan 3, on the 9th October. Aoralscan 3 has gained many dental practitioners' attention with its new design and excellent performance. We hope to show why this technology has started becoming a favorite with dental practitioners.
This article shows you a unilateral distal extension edentulous case restored by multiple implants using Shining 3D Aoralscan3 by Dr. Chen from Hangzhou Stomatological Hospital. Let's take a look at Aoralscan 3's wonderful performance.
Case information and treatment plan
After intraoral and radiological examination, the case was diagnosed as missing dentition.
Treatment plan: Remove 43-47 defective restoration and 43,45, Make implant restoration at the same time.
Implant operation: 44 with Straumann BL NC3.3*8mm implant; 46, 47 with Straumann BL RC4.8*8mm implant, torsion 35Ncm, healing cap was placed and soft tissue flap was sutured in opposite position. CBCT showed that the implant could be implanted after operation, and the final repair was carried out a few months later after a transitional period.
Restoration Process
Gingival shaping was first completed after several months of gingival surgery. A good gingival contour and profile were obtained. After the gingival recovery was complete, the final implant restoration could be made by digital impression workflow.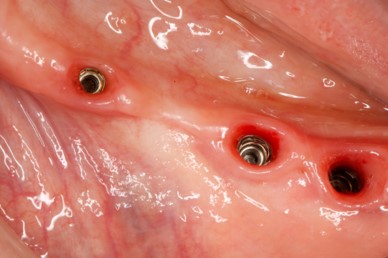 Gingival information collection: The patient's intraoral gingival profile data was scanned by Shining3D Aoralscan3 intraoral scanner. Good quality gingival profile data is very important to the design and manufacture of a restoration.
Tips: This kind of free-end mucosal data can be collected more quickly with a mouth opener.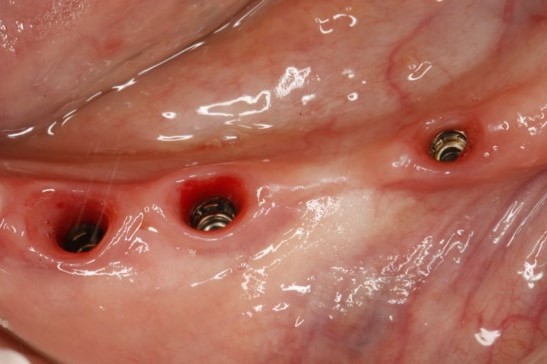 Scan body Information collection
Aoralscan 3 intraoral scanner was used to create the scan body information in the patient's mouth.
Tips: when collecting this kind of data, dry the saliva on the scan body. The scan body feature should be placed on the buccal or lingual side to make it easier to collect.
The patient's intraoral information was collected by Aoralscan 3 intraoral scanner.
Data acquisition completed
Data collection is confirmed and sent to the lab technician through Shining3D's dental cloud platform.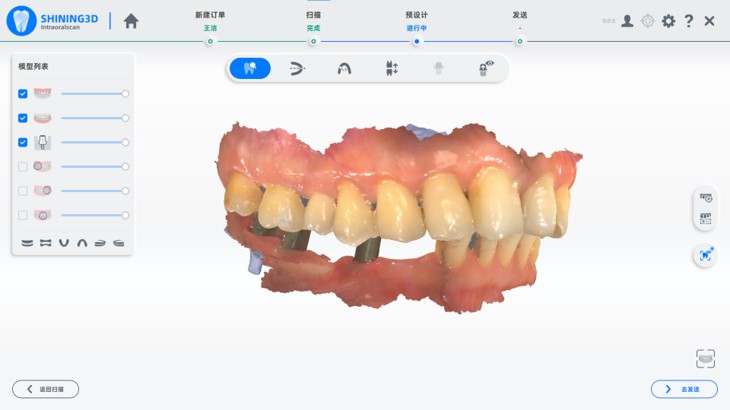 Model Editor
The data is imported into 3shape software for model editing.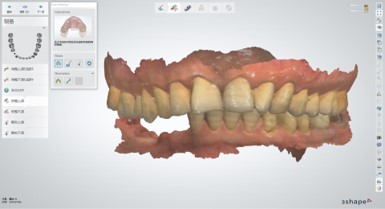 Tips: Choose the corresponding data format on Shining 3D's dental cloud platform according to the design software you prefer to use.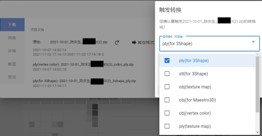 Finally, the fitting and the adjustment of the restoration was made on the printed model and gingiva.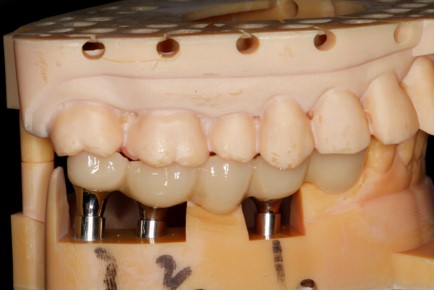 Dental Restoration Fabrication
The final restoration milled by CAD/CAM.
Try in
Put the final abutment in the mouth.
Fix the final dental restoration
Final abutment and final dental restoration Sitting
X-ray examination showed that the position of the restoration was accurate, the approximal contact was good and the occlusion was stable.
Case summary
The whole process of this implant case adopted the full digital workflow from impression to restoration.
The use of Aoralscan 3 intraoral scanner allowed the collection of accurate 3D data in the patients' mouth in only a few minutes. This improves the efficiency of diagnosis and chair-side treatment process, and greatly reduces problems such as time-consuming, tedious working procedures, silicone rubber deformation or transfer movement which leads to inaccurate data.
With the cloud transmission function and digital processing flow, it not only further ensures the accuracy of the implant model and restoration, but also greatly shortens the production time.
The treatment is more efficient and comfortable while patients are more satisfied.
This case was completed by Shining 3D in cooperation with the West Hospital of Hangzhou Stomatological Hospital. Thanks to Dr. Chen for his support and trust.