Hangzhou, July 13th 2021 – SHINING 3D, the full solution provider of the digital dentistry workflow from scan to print and Pro3dure Medical GmbH announce compatibility of AccuFab 3D Printers and Printodent dental resins. With the possibility of integrating Pro3dure´s professional and high-quality 3D printing resins, users of AccuFab 3D Printers now have the chance to significantly broaden their palette of applications.
GR-10 guide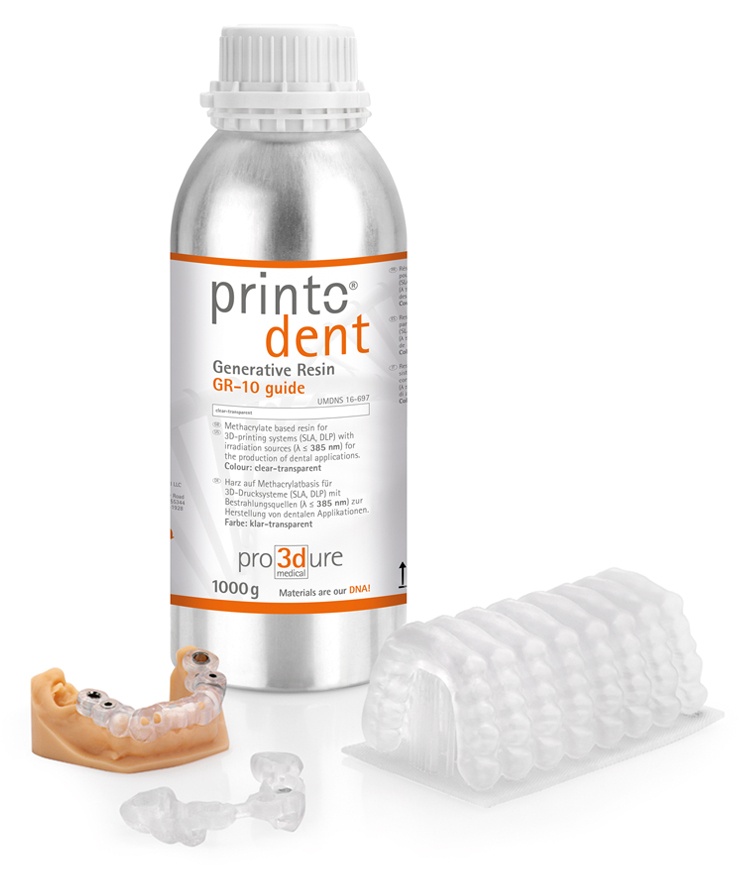 pro3dure´s printodent® GR-10 guide is a biocompatible 3D printing resin, which has been developed for the production of surgical guides and splints. Its class leading strain in combination with exceptional clarity and highest UV-stability allows you to insert the drill sleeves effortlessly and offers you optimal control during surgery. printodent® GR-10 guide occlusal splints fulfill the highest demands on aesthetics and define the standard for 3D printed splints in terms of breaking stability.
GR-11 tray
printodent® GR-11 tray is a biocompatible 3D printing resin for the generative production of customized impression trays. Due to its high reactivity, build styles with up to 300 μm z-height can be achieved in order to be efficient in the laboratory. The high elongation values of the printodent® GR-11 tray make the impression for the dentist and patient comfortable and safe.
GR-12 cast
printodent® GR-12 cast material is a residue-free castable 3D printing resin, which can be used in combination with different investment masses for a variety of applications. Thanks to the optimized setting of the curing depth, the material can also print in the finest details. In case there is a need for making repairs or adding material we recommend the light curing repair gel LCR-1 from pro3dure.
GR-13 model
printodent® GR-13 model is a resin for the production of dental models based on an image projection system (≤ 405 nm). The formulation of GR-13 model is optimized for the requirements of a robust production guaranteeing constant high quality. The material can be used for build processes with layer thicknesses from 10 up to 100 μm. It is recommended to use the pro3dure medical curing device CD-1 or CD-2 for post curing.
GR-14.1 denture
printodent® GR-14.1 denture is a biocompatible 3d printing resin for the production of denture bases. By its low water absorption (< 25 μg/mm²) and a water solubility (< 4 μg/mm²) according to ISO 20795-1:2013 the printodent® GR-14.1 denture meets the requirements on dental materials. Furthermore, the low shrinkage of printodent® GR-14 denture resin (< 1 %) compared to traditional PMMA materials guarantees a high level of accuracy and a perfect fit of the denture base.
GR-14.2 denture HI (US only)
printodent® GR-14.2 denture HI is a light-curable polymerizable resin intended to be used in conjunction with extraoral curing light equipment. The printodent® GR-14.2 denture HI is indicated for the fabrication and repair, by additive manufacturing, of full and partial removable dentures and baseplates.
GR-17 temporary & GR-17.1 temporary lt
printodent® GR-17 series resins are biocompatible 3D printing resins for the additive manufacturing of provisional crowns and bridges. The printodent® GR-17 temporary is indicated for provisional anterior restorations. printodent® GR-17.1 lt has convincing mechanical properties compared to conventional temporary materials with E-Modulus > 5000 MPa (according to ISO 10477: 2003) and a flexural strength of 112 MPa (ISO 4049). Due to this it can be used in an ideal way for long term temporary restorations. printodent® GR-17 and printodent® GR-17.1 provisionals can be fixed with common temporary cements. The resins are available in tooth colours A1, A2, A3, A3.5, B1, B2 and bleach.
GR-18.1 IB
printodent® GR-18.1 IB is a biocompatible 3D printing resin for the generative production of orthodontic "indirect bonding trays". The post cured material is flexible, transparent and has a high tear strength. This allows the orthodontist to precisely place all brackets in one operation.
GR-19 OA
printodent® GR-19 OA (ortho appliance) is a biocompatible 3D printing resin for additive manufacturing of rigid orthodontic splints. The material is available in two transparent colors (light blue and rose). Due to its high rigidity the resin can also be used for the digital production of complex orthodontic appliances.
GR-21 Try-IN
printodent® GR-21 Try-In is a biocompatible Class I medical product and is suitable as a base material for try-in of digitally manufactured denture bases. printodent® GR-21 Try-In can be used for the generative production of try-in devices. Such as, denture bases with individual tooth setup in order to check bite registration and occlusion. printodent® GR-21 Try-In is available in the tooth colours A1, A2 and A3.
GR-22 flex
printodent® GR-22 flex is intended for the production of orthodontic and dental objects (mouthguards, nightguards, snoring appliances and splints). It is the innovative resin for the 3D printing of splints with unique impact resistance and high elongation at break. Its distinctive tough elastic properties in combination with a thermoeffect blend for the maximum comfort and biocompatibility. Use < 30 days (cumulative).
About Pro3dure
"Materials are our DNA!" is the guiding principle of the medical technology company pro3dure medical, founded in 2014 and headquartered in Iserlohn – in the heart of North Rhine-Westphalia, Germany. The corporate philosophy, aimed at meeting specific customer requirements, is based on an innate strategic imperative that has always been the driving force behind the research and development of the most innovative solutions in the fields of audiology, dental and medical technology. As in their name, 3D is the central focus of all activities, combined with a wealth of experience, innovative spirit and concentrated technical know-how.
About SHINING 3D Dental
SHINING 3D provides fully integrated 3D digital dental solutions, from obtaining 3D data with 3D scanners for lab and intraoral 3D scanners for clinics, then design with professional dental CAD software, to printing dental products, including working models, orthodontics models, implant models, surgical guides, wax-ups, partial frameworks with DLP 3D printer.
SHINING 3D is committed to the popularization and in-depth development of 3D digital dental solutions, helping dental labs, clinics, hospitals and other organizations to achieve digital transformation worldwide.