Hangzhou, China, 15 November 2022 – Shining 3D has been always working closely with partners, resellers and dental specialists to shape all feedback and ideas into an asset able to improve the overall satisfaction of our customers. This close collaboration leads to the release of Autoscan-DS-EX Pro (H) to answering the market's demands in the best possible way.
Autoscan-DS-EX Pro (H) is the latest entrance in the Shining 3D's desktop scanners portfolio. It is a 3D dental scanner with powerful functions for multiple applications covering scans of impressions, plaster models, articulators, implant abutments, etc. Its high-resolution cameras, advanced algorithms and user-friendly interface bring you with superior data quality with optimal experience.
Ultra-High accuracy and Unparalleled details
Scan accuracy ≤ 8 μm assures reliable scan result, satisfying the requirement of various applications in the dental industry. Equipped with dual 5.0 MP high resolution cameras, AutoScan-DS-EX Pro(H) can capture every detail of the components meticulously.
Flexible workflow and versatile scan modes
Set up your own workflow as you prefer, increasing work efficiency like never before, all-in-one and triple tray are avaliable to get complete scan data with less steps. Scan and backstage data processing can be carried out simultaneously, making the whole process more efficient. The new software associated with AutoScan-DS-EX Pro(H) can support versatile scan modes, including Multi Path Scan, High Quality Scan, AI Scan, Texture Scan, HDR Mode Scan, Reduce High Brightness Scan, etc.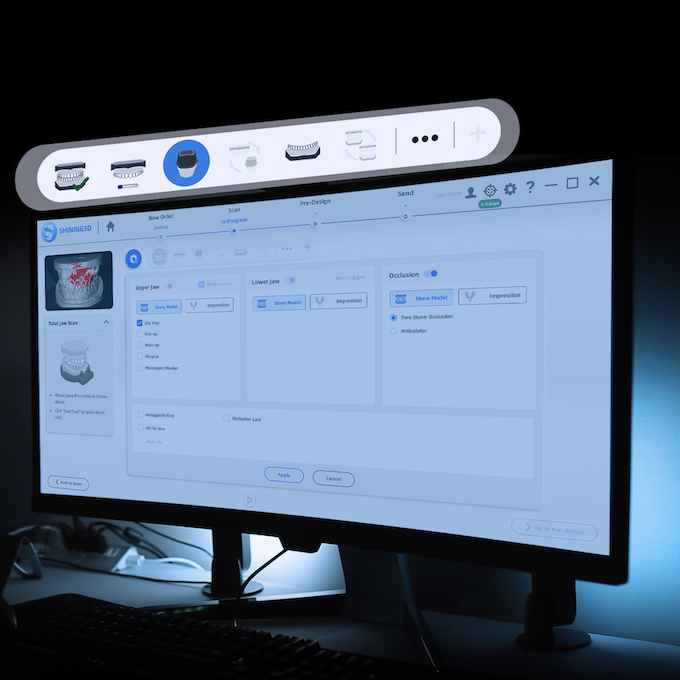 About SHINING 3D Dental
SHINING 3D provides fully integrated 3D digital dental solutions, from obtaining 3D data with desktop 3D scanners for labs and intraoral 3D scanners for clinics, then design with professional dental CAD software, to printing dental products, including working models, orthodontics models, implant models, surgical guides, wax-ups, partial frameworks.
Contacts
sales@shining3d.com