Overview
With more requirements on dental treatment efficiency raised by patients, chairside real-time restoration solution has been a hit.
This case study describes a chairside real-time restoration solution with Shining3D's Aoralscan intraoral scanner in which two onlays restorations were finished within three hours. There is no need to take an impression or make a plaster model. The treatment was completed within the day of the visit, and the efficiency was significantly improved.
Solution

Case Introduction
Gender: Male
Age: 20+
Chief Complaint: Back teeth pain
Diagnosis: Decay of teeth 35 & 36
Treatment: Tooth decay removal and onlay restoration
Workflow
1. Tooth Preparation
2. Intraoral Scan
Use Shining3D Aoralscan to obtain the intraoral data of the patient.
3. Restoration Design
Use exocad software to design the restoration.
4. CNC Milling
Import the CAD/CAM file into the CNC milling software. The milling takes about 20 minutes.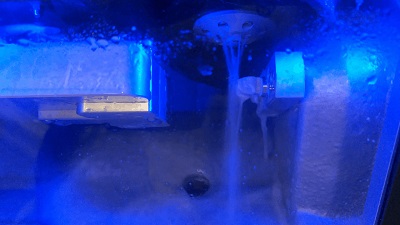 5. Model Printing
Import the model data into the 3DDLP software for editing. Then send the editing file to AccuFab-D1 for working model printing.
6. Adjustment, Glazing, Try-in
Check the location, abutment, and occlusion. After post-process of sintering, dyeing, and polishing; try the milled restoration on the printed model.
7. Preparation for Bonding
Use hydrofluoric acid to corrode the restoration for further bonding.
8. Intraoral Try-in
Validates the restoration is in the correct location, the abutment is suitable, and the occlusion is slightly contacted.
Real-time restoration is completed.
Aoralscan chairside real-time restoration provides:
High Efficiency: 3 hours from scanning to restoration try-in
With Aoralscan chairside real-time restoration solution, patients do not need to make appointments with the doctor or visit the doctor several times. Instead, patients can finish the treatment and get the try-in at the same time. It saves time for both patients and doctors.
Aoralscan chairside real-time restoration provides:
Better Experience
The Intraoral scan is the basis of digitalized dentistry. Aoralscan chairside real-time restoration overturns the traditional denture making process of taking impressions and making plaster models. It provides better experiences for doctors, patients, and technicians.
For patients, better treatment experience:
Fewer appointment times. Treatment can be completed within the first visit.
Vivid intraoral images, Patients are better aware of the dental situation.
A better experience in data obtaining with intraoral scanner than that through impression.
For doctors, better treatment experience:
Fewer appointment times, higher treatment efficiency.
Vivid intraoral image, better doctor-patient communication.
Cases stored on the cloud, easy to find.
For technicians, better working environment and higher efficiency:
No gypsum, better working environment.
Digitalized process, upgraded workflow.
Modern doctor-technician cooperation.
Doctor Introduction
Zhang Chao
Doctor from Stomatological Department of Zhejiang Greentown Hospital
Major fields: Minimally invasive restoration and resin aesthetic restoration
Took part in Italy Frattini and Vanini aesthetic courses and restoration courses given by Hidefumi Araki
Trainer for Ivoclar Vivadent and Kerr